Many Austin, Texas based companies have decided against transitioning employees back to the office after over a year of working form home, despite restrictions becoming a lot more relaxed. Working from home has become the new norm for many of us, and lots of people have grown to actually prefer working this way. This means that those make-shift home offices (such as sprawling out across the coffee table in the middle of the living room) may not cut it anymore. It's the perfect time to take the plunge and commit to renovating a new office in your Austin, Texas home. 
Find The Right Space
It's important to find the right space for your home office. An underutilized spare bedroom, or an unnecessary dining room are great candidates from a home office conversion project. If options such as these are unavailable, you can always think outside the box and look into converting a garage or adding a home extension. However, these options often require even more planning, budgeting and proper permitting from the city.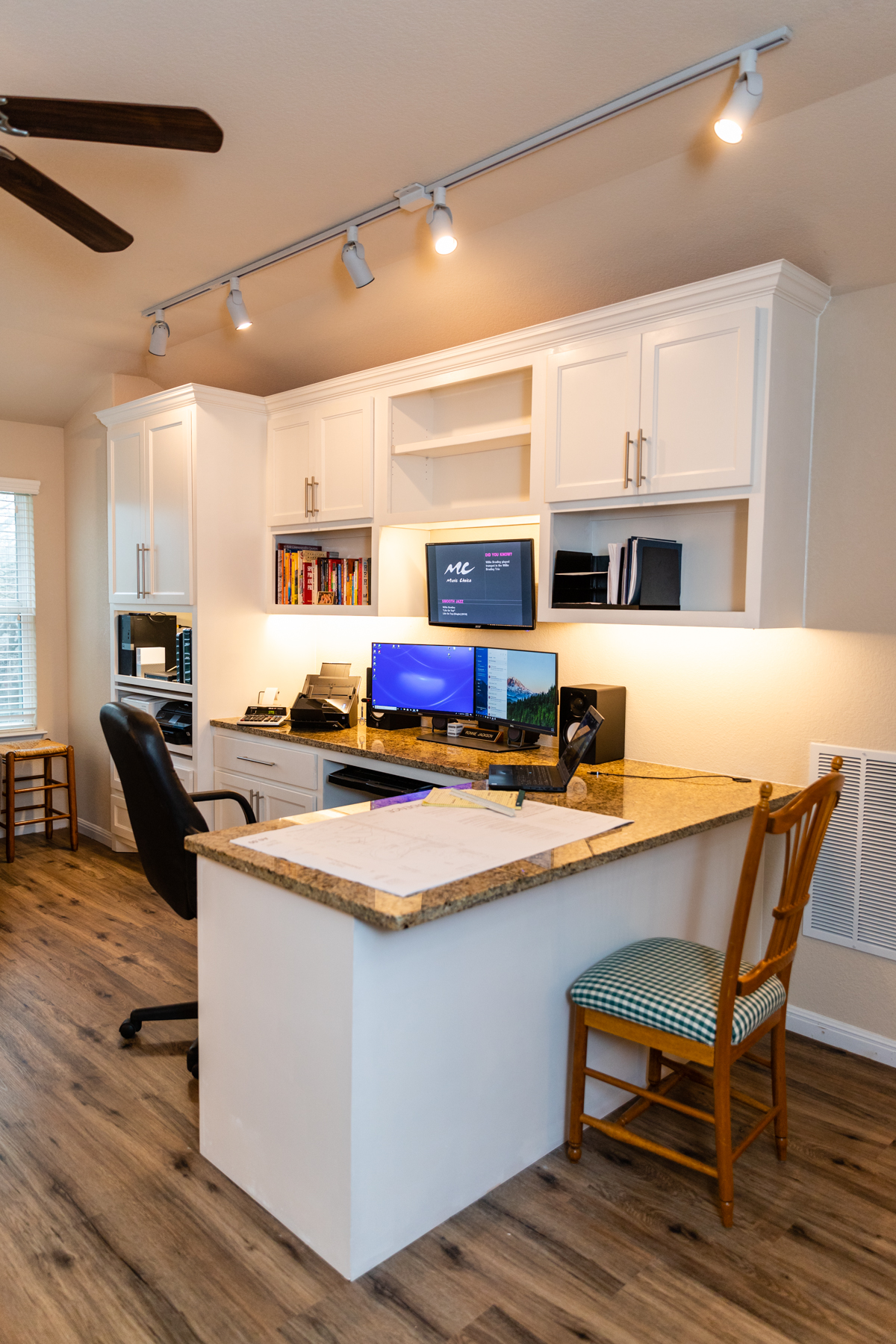 Check for Required Power Connections
Once you've chosen the right space it's time to make sure it contains enough required power connections for your home office needs. Take some time to think about how power connections are necessary for all of your work from home needs; this can include plugins for your router, computer, second monitor, lighting, as well as laptop, tablet and phone chargers.  You may find it's time to consult with an electrician. 
Design Around Your Needs
Not all work-from-home jobs are the same, so make sure to consider all of your own unique home office needs when tackling your home office conversion project. For example, if your job requires a lot of video conferencing think about the kind of lighting and backdrop space is needed.  We recommend really thinking about your own daily work tasks when designing, building, converting and renovating to accommodate!
Select a Desk & Comfortable Chair
These two things make a big difference. Your desk should meet all of your needs for storage and devices. The right chair is one that doesn't cause an achey back at the end of the day. Pro-tip: read reviews or even try sitting on different ergonomic chairs at office supply stores before buying one. We also suggest measuring your home office space before buying these things, so that you know they will fit properly.
Incorporate storage
A functional home office requires an appropriate amount of home storage. Make sure you leave enough room for filing cabinets, shelving and even building out a storage closet if necessary when planning and measuring out the conversion. If you are converting a bedroom, you can utilize the existing closet as office storage.
Personalize the Space
Once all the heavy lifting is done its time to personalize the space. Personal touches can help with daily work motivation and inspiration. Think about paint, plants, accents and art that you want to personalize your work space with. HGTV has some great decor ideas here.
The Good News
Creating the perfect home office may require a lot of work, but there are plenty of benefits to having this dedicated workspace: more inspiration, higher productivity, and even some tax write-offs (especially for those of ya'll who are self employed). We hope you are able to find the perfect spot to create your own home office. We are here to help as well! If you're ready to commit to creating your own home office, contact us today for a free quote.